SPACES FOR EVENTS IN BILBAO
WELCOME TO YIMBY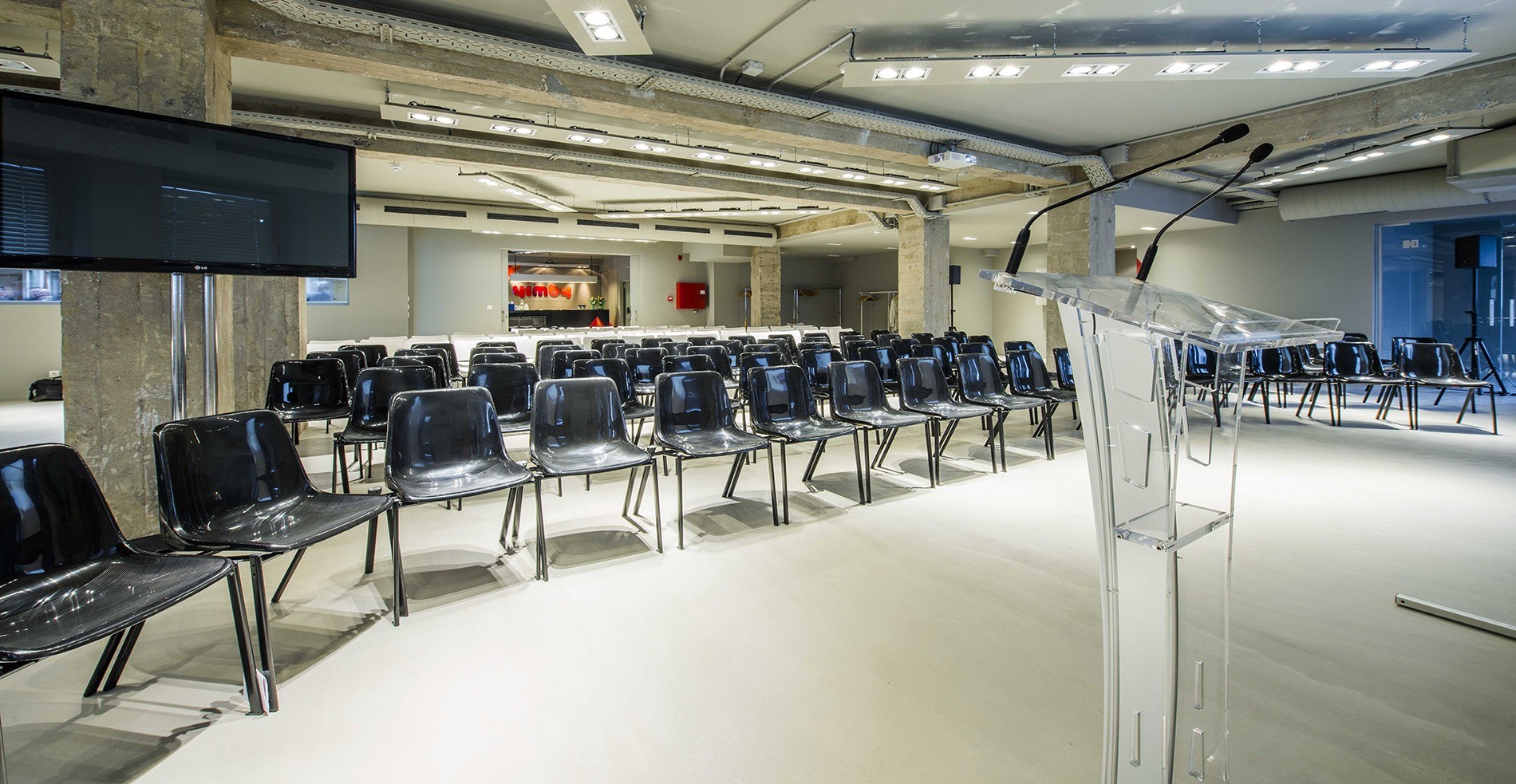 MORE THAN 1,000 m² WHERE YOU CAN LET YOUR IMAGINATION FLY

AN EXCLUSIVE SPACE IN THE CENTRE OF BILBAO

ACHIEVE THE MOST UNIQUE MEETING EXPERIENCE IN BILBAO

ARE YOU A COMPANY? ORGANISE YOUR CORPORATE EVENT IN BILBAO

WITH ALL THE SERVICES

SURPRISE EVERYONE WITH YIMBY
MORE THAN 1000 m² SO YOU CAN LET YOUR IMAGINATION FLY
Under a spectacular architecture, Yimby welcomes you to the best scene for your business meetings, conventions, conferences, gastronomic experiences, workshops, product presentations, launch campaigns… and in general any corporate event you wish to hold.
AN EXCLUSIVE SPACE IN THE CENTRE OF BILBAO
Enter an innovative space with unbeatable accessibility. Right in the centre of Bilbao, where everything starts from, next to the metro station, taxi rank and bus stop to the Airport, on Plaza Moyúa square. Somewhere you can make reality all kinds of initiatives, projects and corporate events.
EQUIPPED WITH ALL THE SERVICES
ALL THE COMPLEMENTARY SERVICES FOR ANY EVENT
Finding and hiring all the services required to make your event a success can be a genuine headache. At Yimby we solve that problem for you by offering the best possible services for your needs.
These services are sometimes included in the lease of our rooms; others they can be contracted ad hoc under your supervision; and in other cases they are the result of our experience, including the introduction of novel catering concepts, such as our Street Food, or the possibility of hiring renowned service providers.
ARE YOU A COMPANY? ORGANISE YOUR CORPORATE EVENT IN BILBAO
A sales meeting, a particularly significant event,  a product presentation … all these and many other reasons are the ideal opportunity for your employees  or customers get to know your company in a different way, in a special place, which will highlight the event itself and how important it is for you to ensure everybody feels at home.
ACHIEVE THE MOST UNIQUE MEETING EXPERIENCE IN BILBAO
Our "Forest of Promises" courtyard is the perfect space for a meeting. Yimby's courtyard is the epicentre, amid the live music and the "hi, how are you?" of guests. A place to share unique experiences, opportunities, hobbies… Have you looked upwards yet? It's the glass roof of our courtyard, where the light shines through during the day and the stars appear at night.
SURPRISE EVERYONE WITH YIMBY
Another of our differentiating features is our fully equipped open kitchen adjoining the Back Room, where you will be able to enjoy show cooking sessions, cookery courses or even do some cooking yourself. The perfect space to create different, unique events where gastronomy plays a major role and leaves a lasting mark in all the attendees' memories.
Because we know that every idea you come to us with will be totally different. We have all the services and facilities required to hold your event, and explore solutions with added creativity, while at the same time giving you the opportunity to bring along your own trusted service providers if you wish.
The space adapts to the event and not the other way round.  That's Yimby for you! We want to adapt to your needs, to your idea, rather than having you adapt to the features of the available space. That's' why our rooms can be combined and complement each other – to adapt to the event in all its aspects.
Ideally located right in the centre of Bilbao. On Plaza Moyúa square, only a step away from all the different forms of city transport and very close to several public car parks.  So the attendees to your event can arrive any way they like, by metro, bus, taxi or even in their own vehicle.
All the rooms have natural light, but the courtyard… the courtyard is a magical space that we feel especially proud of. Our "Forest of Promises" courtyard is the image of Yimby: with a glass roof and light streaming in to illuminate a totally different design. Come and see for yourself.
Adapted to your needs, so you can give that exclusive touch to your event. 1,200 m² in five modular, versatile rooms that you can combine and adapt to your event.
The ideal venue to carry out all kinds of initiatives and ideas: showrooms, pop up store, workshops, presentations, outlets… Located at street level on Rampas de Uribitarte number 1.
A Yimby in another emblematic building, the SOTA building, right on the Gran Vía, one of Bilbao's main thoroughfares. 225 m² divided into four multipurpose rooms that can be combined according to your needs.
THEY ALREADY PLACED THEIR TRUST IN US
Note: Carousel will only load on frontend.